SyCipLaw's Banking Bulletin July 2023: BSP Amends Rules on Mandatory Development Financing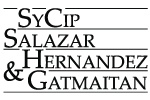 On June 9, 2023, the Monetary Board of the Bangko Sentral ng Pilipinas issued Circular No. 1174, amending the implementing regulations of the mandatory agricultural, fisheries and rural development financing contemplated by the Agriculture, Fisheries and Rural Development Financing Enhancement Act (Republic Act No. 11901 or the "Agri-Agra Reform Credit Act"). The implementing regulations were previously set out in BSP Circular No. 1159 dated November 4, 2022.
Follow this link to continue reading SyCipLaw's Banking, Finance & Securities Department's Banking Bulletin for July 2023, featuring an in-depth discussion of the implementing regulations of the Agri-Agra Reform Credit Act.
You may also download the latest issue here or via this link.
MEMBER COMMENTS
WSG Member: Please login to add your comment.