Mamo TCV Joins the Malta Business Aviation Association
Mamo TCV is pleased to announce that it has become a member of the Malta Business Aviation Association (MBAA) which is Malta's national business aviation association. The MBAA is a member of the European Business Aviation Association (EBAA).
The MBAA recently released a public statement announcing Mamo TCV's addition to its business aviation community. The MBAA had the following to say about the firm:
"With their expertise and passion for aviation, we are confident that they will bring fresh perspectives and innovative ideas to our collaborative efforts."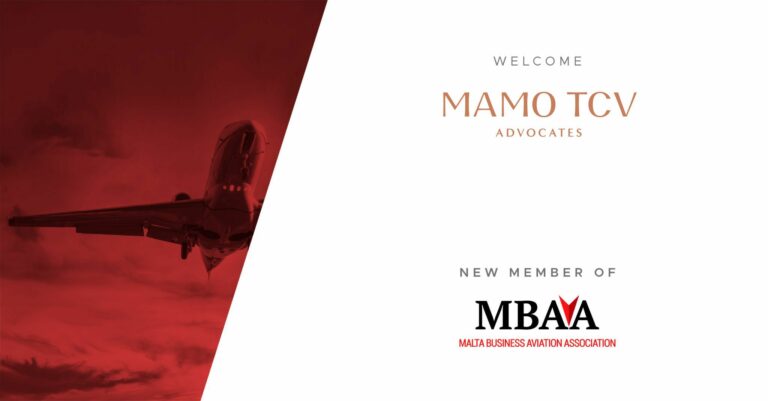 The MBAA
The MBAA's primary goal is to promote excellence and professionalism amongst its members, empowering them to achieve best-in-class safety and operational efficiency in the aviation sector in Malta. It is dedicated to representing its member's interests both within Malta and throughout Europe.
The MBAA's core priorities include addressing the challenges involved in building further on the success of the Maltese jurisdiction and positioning Malta as an ideal location for operating and owning business aircraft. The MBAA is also actively engaged in navigating the complex landscape of the European Aviation Safety Agency (EASA) rulemaking process, as well as the Civil Aviation Act, Chapter 232 of the Laws of Malta.
In addition, the MBAA is focused on collaborating with the local authorities to improve access to Malta International Airport, enhancing security measures, and advocating for better facilities to support business aviation operations.
Mamo TCV & Aviation
Our dedicated Aviation Team within Mamo TCV has amassed considerable experience in all aspects of aviation law. Our firm has supported local and international clients, as well as international financial institutions and public authorities in various aviation related matters, including aircraft registration, leasing, purchase, operation, importation and litigation relating to aviation law.
Disclaimer: This document does not purport to give legal, financial or tax advice. Should you require further information or legal assistance, please do not hesitate to contact [email protected]
The post Mamo TCV Joins the Malta Business Aviation Association appeared first on Mamo TCV.
Link to article
MEMBER COMMENTS
WSG Member: Please login to add your comment.