IFLR: "Philippines: Renewable energy projects"
Published: July, 2016
Submission: July, 2016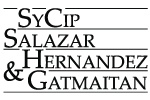 Rafael L. Encarnacion. The article discussed the challenges that the national legal regime poses to foreign investors seeking a higher equity stake for renewable energy projects, and the difficulty of procurement with either-end users or distribution utilities. In May 1, 2016, distribution utilities are required to undertake a competitive selection process with power suppliers.


Read the article online at the IFLR website.



MEMBER COMMENTS
WSG Member:
Please login to add your comment.