ALB: "Evidentiary Issues in Arbitration"
by Ramon Songco
Published: December, 2016
Submission: December, 2016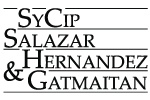 The November 2016 issue of the Asian Legal Business (ALB) includes a regional update article entitled "Evidentiary Issues in Arbitration", contributed by SyCipLaw Partner Ramon G. Songco and Associate Arvin Kristopher A. Razon.
The article enumerated and discussed the laws that aimed to address concerns in resolving disputes in arbitration, such as how evidence is presented, assessed for relevance and competence, and protected during arbitration proceedings.
Read the full ALB November 2016 issue on the ALB website.
MEMBER COMMENTS
WSG Member:
Please login to add your comment.