October, 2017 - Metro Manila, Philippines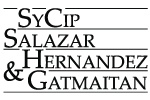 SyCipLaw is National Law Firm of the Year at the 2017 Asialaw Asia-Pacific Dispute Resolution Awards
SyCip Salazar Hernandez & Gatmaitan (SyCipLaw) was recognized as the Philippine National Law Firm of the Year at the 2017 Asialaw Asia-Pacific Dispute Resolution Awards. SyCipLaw partners Anthony W. Dee and Ronald Mark C. Lleno received the award on the firm's behalf.

The awards recognize the foremost litigation and dispute resolution leaders and practitioners in 12 practice areas and across 14 jurisdictions around the region based on Asialaw's comprehensive research in the past year. The awards ceremony was held last September 28 at the Grand Hyatt Hotel in Hong Kong.

For more information on the awards, please visit the Asialaw website: https://www.asialaw.com/articles/asialaw-asia-pacific-dispute-resolution-awards-2017/arzqlnak.

SyCipLaw's Litigation and Arbitration Department has a wide-ranging litigation practice in all court levels - from the municipal trial courts and the regional trial courts, to the Court of Appeals and the Supreme Court, as well as in various administrative agencies. The firm also has a very extensive arbitration practice, being involved in foreign arbitration, international commercial and other domestic arbitration, and construction arbitration.