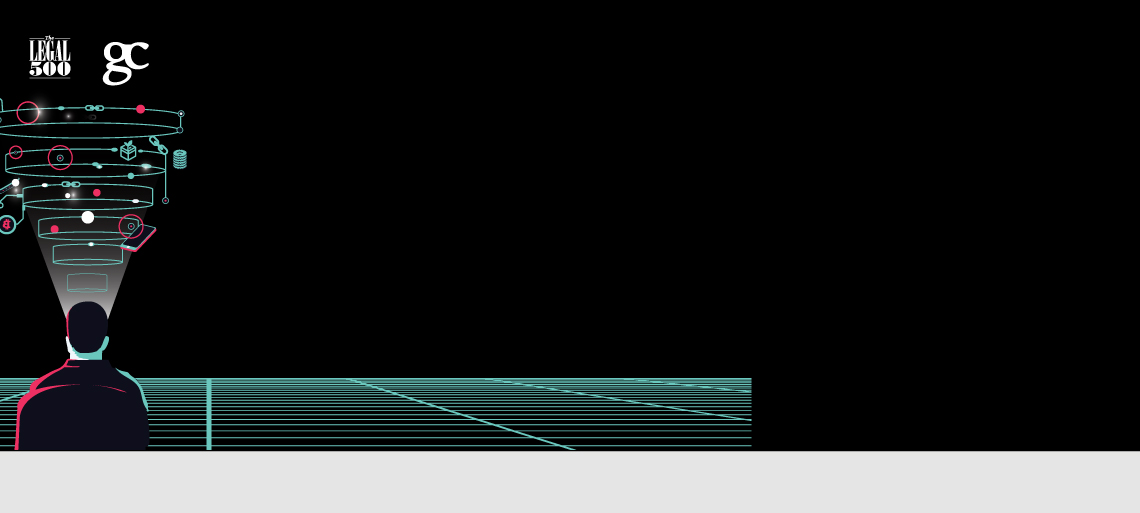 In-House Technology in Europe Survey
General Counsel Leaders in Europe are Positive About Disruptive Technology in the Legal Sector
World Services Group (WSG), in partnership with The Legal 500's GC magazine, recently published new survey results that provide insight on trending in-house legal sector technologies and how European general counsel members are adapting to the changes.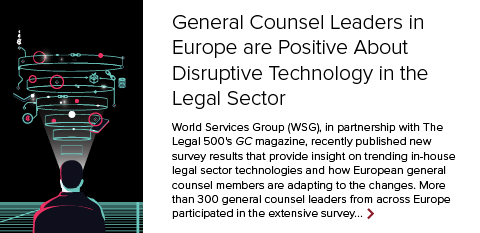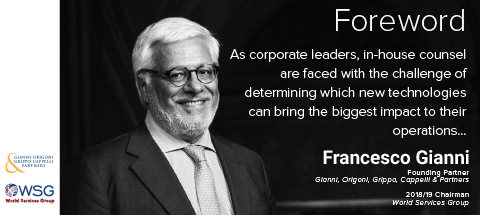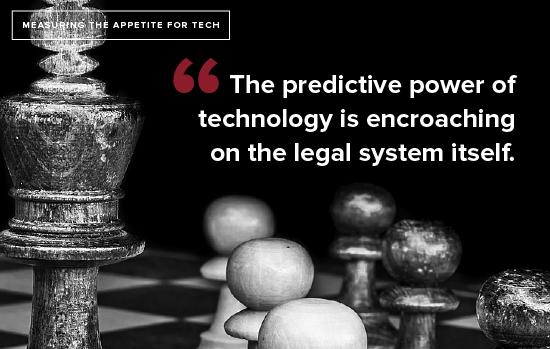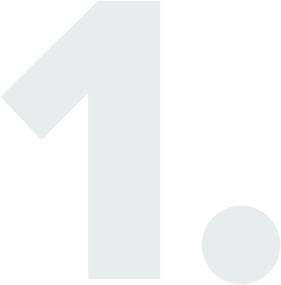 State of Play
Following an extensive survey of in-house counsel leaders across Europe, GC looks at the state of technology innovation hitting their profession and how their teams and businesses have responded. When asked whether technology had the potential to disrupt the legal profession over the next five years, 84% said they believed that technology will be disruptive. Of those, 71% felt that technology would be somewhat positive and 29% thought that the disruption would be entirely positive.

---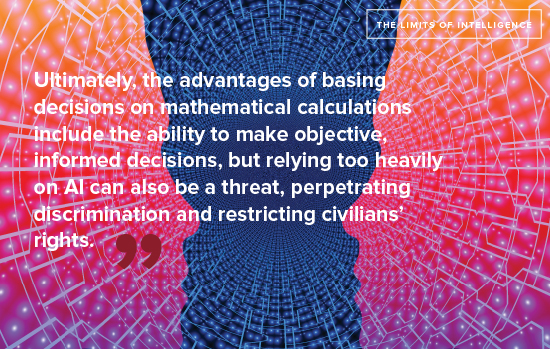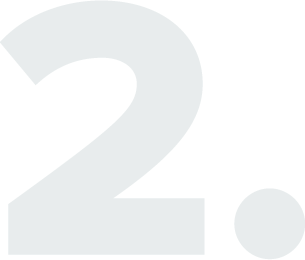 Potential Intelligence
Much of the current conversation around artificial intelligence (AI) is about its potential. Only 9% anticipate AI disrupting the legal industry within the next two years but that figure increased to 59% when the period for disruption was increased to the next five to 10 years. Only 8.8% of survey respondents reported using AI solutions currently.

---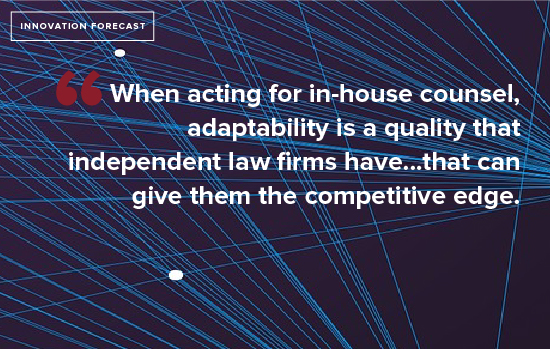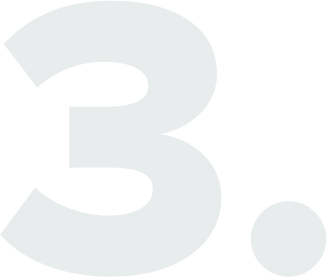 A Look Ahead
In-house teams discuss the long-term outlook for innovation within their departments and businesses. Most in-house commentators are confident that the core tasks carried out by lawyers are unlikely to face the kind of disruption that renders the profession obsolete. Although standard and routine work is likely to eventually be automated, businesses will still require lawyers to provide advice on more complex issues such as risk management and corporate governance.

---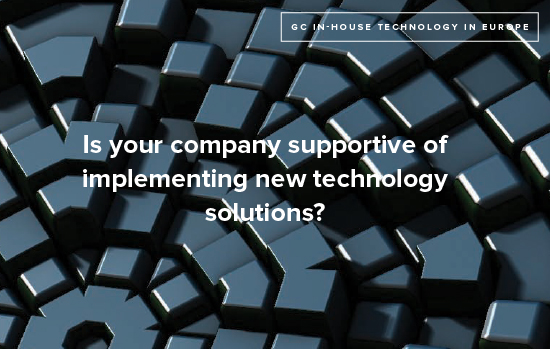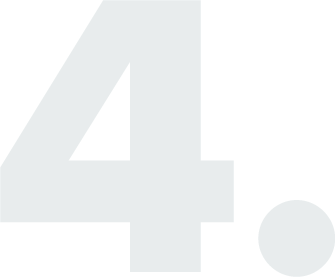 Data Analysis: Part One
Backing from the Business
When it comes to the implementation of technology for in-house legal departments, internal buy-in and backing from the rest of the business proved to be top influential factors in the likelihood that a team was to have implemented technological solutions within their department. 70% of the in-house counsel surveyed for this report said that they felt their company was supportive of implementing new technology solutions. The remaining 30% did not.

---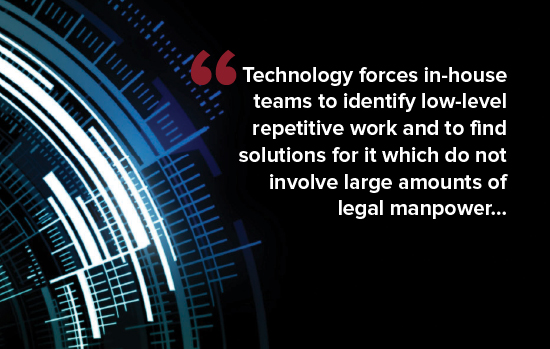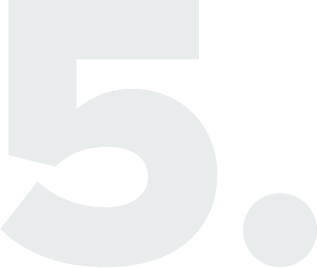 Data Analysis: Part Two
Big Budgets, Big Future
When it comes to improving efficiency within in-house counsel teams, an increasing number are turning to technology. 80% of the in-house counsel surveyed reported that the use of technology within their departments had increased over the past five years, with 21% describing that increase as significant.

---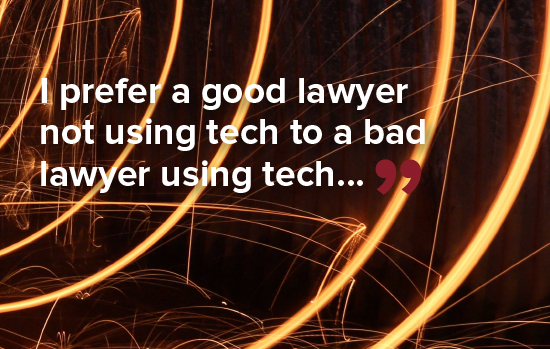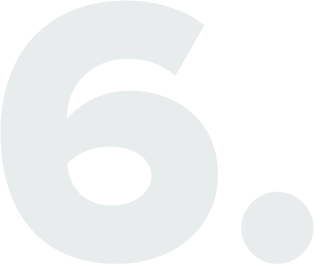 Data Analysis: Part Three
Trickle-Down Innovation - Redefining the Firm-GC Relationship
91% of in-house counsel surveyed for this report felt that it was important that their external advisers kept abreast of new technologies. Despite there being a common recognition that it is an important factor, nearly as many in-house counsel reported that they didn't know...

---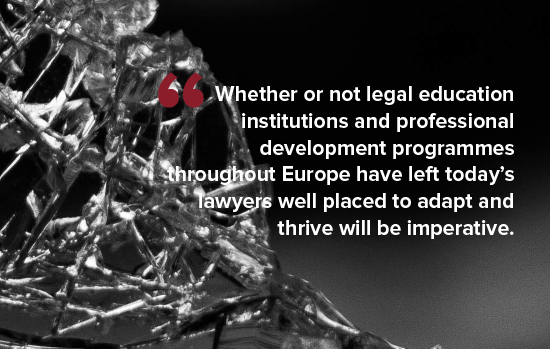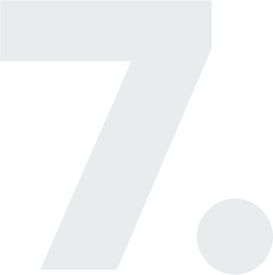 Data Analysis: Part Four
Positive Disruption
In-house counsel provide further insight on disruptive technology in terms of when this might come, what form it may take and what this means for the future of legal advice. Of those in-house counsel surveyed for this report, the vast majority agreed that technology will disrupt the legal profession in the next five years, with 94% acknowledging that technology will be at least somewhat disruptive.