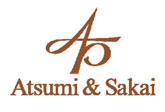 Atsumi & Sakai
Legal Services | Japan
http://www.aplaw.jp/en/
tel: +81 3 5501 2111 | fax: +81 3 5501 2211
Fukoku Seimei Bldg. (Reception: 16F) | Tokyo | 100-0011 | Japan
---
Atsumi & Sakai's Overview
Building from its award-winning finance and securitization practices, Atsumi & Sakai has developed a depth of expertise that extends across all of fields of business and finance law. The firm has a recognized excellence for its innovative capabilities in finance, particularly for our work in project finance, PFI, M&A finance, syndicated loans, securitization, covered bonds and similar structured finance transactions, as well as the creation and management of investment funds, both inbound and outbound.

In April 2005, Atsumi & Sakai became the first Japanese law firm to create a foreign law joint venture, which permits us to admit as partners attorneys admitted in jurisdictions other than Japan, bringing real international expertise and capabilities to the firm. In addition to giving us the ability to advise on the laws of e.g. New York and England, this enables us to provide comprehensive, highly sophisticated drafting, research and other legal services seamlessly across multiple jurisdictions.


Year this Office was Established: 1994
Number of Offices Worldwide: 2
Lawyers Worldwide: 141
Languages: Japanese, English, German, Italian, Chinese, Korean, Russian, Hindi and Marathi
Notable

Press
Atsumi & Sakai and Tricor K.K. Launch a One-Stop Japan FDI Legal and Business Support Service
Atsumi & Sakai, October 2016

Although the Japanese government's "Invest Japan" program is seeking to make Japan a leading target for global FDI through the simplification and relaxation of onerous regulations and procedures, there are still many legal and practical matters inhibiting foreign investment into Japan; these range from a legal system unfamiliar to foreign investors, to inherent language difficulties, cultural differences, and a relatively small pool of professional advisers with the appropriate expertise and experience. In order to address these issues, leading Tokyo law firm Atsumi & Sakai ("A&S") and Tokyo-based corporate services provider Tricor K.K...
© Atsumi & Sakai, 2018