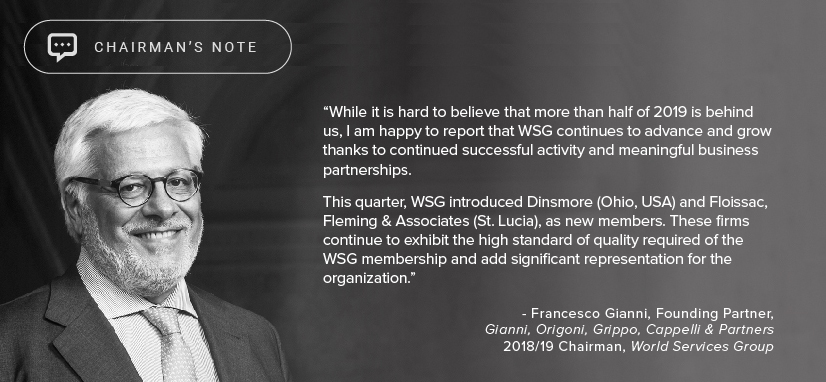 Dear WSG Members,
While it is hard to believe that more than half of 2019 is behind us, I am happy to report that WSG continues to advance and grow thanks to continued successful activity and meaningful business partnerships.
This quarter, WSG introduced Dinsmore (Ohio, USA) and Floissac, Fleming & Associates (St. Lucia), as new members. These firms continue to exhibit the high standard of quality required of the WSG membership and add significant representation for the organization.
I also want to remind you about the upcoming WSG Annual Meeting to be held in Washington D.C. on 04 - 06 September. The meeting, hosted by Dykema, Haynes and Boone, Morris Manning & Martin, and Stout, is sure to be another great success and will feature remarkable guest speakers and special opportunities to network with WSG colleagues. Additionally, we look forward to the upcoming WSG IFA Networking Cocktail on 11 September in London, England as well as the WSG IBA Networking Luncheon on 23 September in Seoul, Korea.
As the in-person events continue to be a success, so too, are the many ongoing projects happening to benefit the organization and its members on many other fronts. As you are aware, WSG has continued to move forward with on-going projects such as the secondments program, emerging leaders, dealmakers project, and others to benefit every member by increasing your WSG membership value. I appreciate the tremendous work and success of the WSG staff to achieve such lofty goals and encourage you to participate for the benefit of the entire organization. We look forward to the launch of these programs.
On behalf of the Executive Committee and the Board of Directors, I wish you all the best for the coming months. I encourage you all to register for the WSG Annual Meeting, and to take advantage of the many valuable benefits available to you as a WSG member.
Sincerely,
Francesco Gianni
Chairman
World Services Group


WANT TO CONNECT?