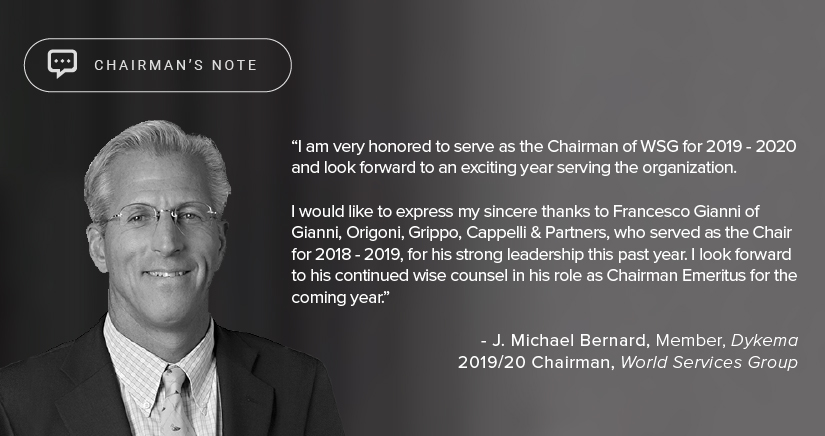 Dear WSG Members,
I am very honored to serve as the Chairman of WSG for 2019 - 2020 and look forward to an exciting year serving the organization.
I would like to express my sincere thanks to Francesco Gianni of Gianni, Origoni, Grippo, Cappelli & Partners, who served as the Chair for 2018 - 2019, for his strong leadership this past year. I look forward to his continued wise counsel in his role as Chairman Emeritus for the coming year. Through the hard work of Franco, prior Chairman, prior Board members, prior members of the Regional Councils and all of our members firms, WSG is situated today as a very strong and vibrant organization.
During my term as Chairman, I intend to focus on the following four principal objectives as we collectively strive to build on our strong and vibrant platform and implement our Mission:
Strategic Plan. An Ad Hoc Committee of the Board recently completed several months of work on a broad Strategic Review of the goals and objectives of the WSG. I look forward to working with the Board and all of the stakeholders in the WSG as we assess and, as appropriate, implement these Recommendations, culminating with a new Strategic Plan in time to replace our current 5-year Strategic Plan which runs through the end of fiscal year 2020.
Brand Awareness. Consistent with the current Strategic Plan and the Recommendations from the Ad Hoc Committee, the WSG must continue to increase brand awareness globally both for WSG as a network and for individual firms. This includes ensuring that the scope and strength of the WSG is known within each of our member firms.
North America. Also consistent with the current Strategic Plan and the Recommendations from the Ad Hoc Committee, the WSG must continue the development of WSG members in key commercial regions of North America. I look forward to working with the Board, Robert Falvey our Global Ambassador, the North American Regional Council and member firms inside and outside of North America to make progress on this key objective.
Tangible Member Benefits. We need to leverage the tremendous resources of our collective member firms in a manner that offers tangible benefits to each of our members. We are limited only by our creativity and willingness to execute.
We will need your help on these key objectives, and I look forward to working with you throughout the course of this year. I encourage you to reach out to me and other leadership within the WSG with your thoughts on how we can execute on these key objectives and improve the network in this fast-changing business environment in which we all operate.
Thank you for your continued support and your trust in my leadership throughout the coming year.
Sincerely,
J. Michael Bernard
Chairman
World Services Group


WANT TO CONNECT?