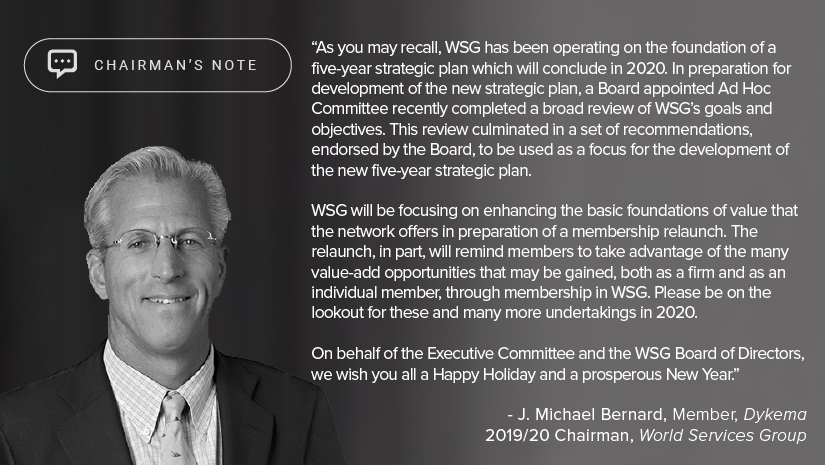 Dear WSG Members,
I want to take this opportunity to thank you for your ongoing support of World Services Group. The coming year will prove to be a great year, full of activity.
As you may recall, WSG has been operating on the foundation of a five-year strategic plan which will conclude in 2020. In preparation for development of the new strategic plan, a Board appointed Ad Hoc Committee recently completed a broad review of WSG's goals and objectives. This review culminated in a set of recommendations, endorsed by the Board, to be used as a focus for the development of the new five-year strategic plan. As a first step, the WSG Executive Committee is in the process of forming a Strategic Planning Committee to interpret these recommendations and further review the initiatives of the global network. To achieve this task, the Committee will, I am sure, be reaching out to members of the network to gather thoughts and perspectives as it works to complete the new plan.
On another note, statistics show that 86% of firms have been members in the WSG network for five years or longer. While this is an impressive number, it is the newer members who are reaping the most value from their membership due to the introduction of new advances to WSG's platform in both new initiatives and the technology. With this in mind, WSG will be focusing on enhancing the basic foundations of value that the network offers in preparation of a membership relaunch. The relaunch, in part, will remind members to take advantage of the many value-add opportunities that may be gained, both as a firm and as an individual member, through membership in WSG. Please be on the lookout for these and many more undertakings in 2020.
On behalf of the Executive Committee and the WSG Board of Directors, we wish you all a Happy Holiday and a prosperous New Year.
Sincerely,
J. Michael Bernard
Chairman
World Services Group


WANT TO CONNECT?