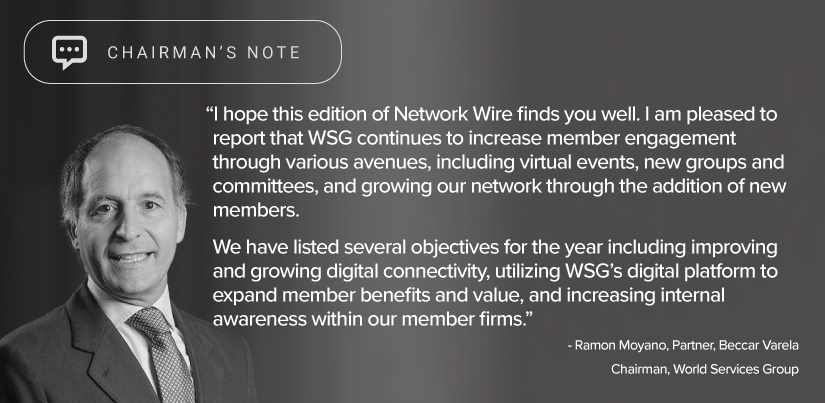 Dear WSG Members,
I hope this edition of Network Wire finds you well. I am pleased to report that WSG continues to increase member engagement through various avenues, including virtual events, new groups and committees, and growing our network through the addition of new members.
We have listed several objectives for the year including improving and growing digital connectivity, utilizing WSG's digital platform to expand member benefits and value, and increasing internal awareness within our member firms.
As a result of the work carried out by the WSG's Strategic Planning Committee, the Board of Directors has begun forming committees to further enhance membership benefits and value. The Board is enthusiastically working toward several initiatives including membership recruitment, development, retention, technology and innovation, corporate governance, and audit and finance. Additional information will be forthcoming.
WSG's Practice and Industry Groups continue to increase in activity and popularity through practice-focused webinars. This year there have been five group meetings with three more scheduled in April, and more still being planned including a very promising one involving managing partners. We are also planning interesting events for the Emerging Leaders. Be on the lookout for the upcoming virtual meetings being hosted by each of the regions and practice groups.
WSG's virtual events have also continued to increase in attendance and have extended the value of membership to a wider audience of professionals than ever before. Most recently, WSG held the 2021 Meeting of the Americas. This 2-day virtual event had over 600 registrants from 68 member firms in eight regions turning the distinct global panels into global events.
WSG has approved two new members to the organization this quarter. I am delighted to announce that the Board has approved new member, Kudun & Partners (Thailand), as well as the addition of five ENSafrica jurisdictions (Ghana, Kenya, Namibia, Rwanda and Uganda.) Please join me in welcoming these firms to WSG. Our recruitment and retention efforts continue with an emphasis on filling strategic jurisdictions with high-quality members.
We are off to a steady start in 2021. I look forward to your active participation in WSG throughout the upcoming year. Please be on the watch for additional information on upcoming webinars and committee findings. As usual, I am always eager to hear from you regarding our network and how we can work together to improve it.
Sincerely,
Ramon Moyano
Chairman
World Services Group


WANT TO CONNECT?