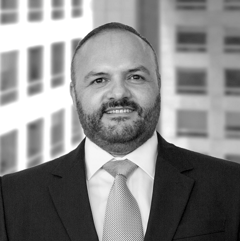 Alejandro Barrera
Partner

Practice Expertise
Tax, Consulting & Litigation
Areas of Practice
Tax, Consulting & Litigation
WSG Practice Industries
WSG Leadership
Profile
Alejandro has more than 28 years of professional experience attending tax matters.
Partner of the firm since 2006 in the tax area in the Mexico City office. Specialized in general tax consulting offering a wide spectrum of tax advisory services including international taxation, tax audits, litigation and dispute resolution, tax compliance, tax planning & strategy, direct and indirect taxes, personal tax advice, and transfer pricing.
He is member of the Management Committee of the Firm.
Education
Alejandro earned his Juris Doctor law degree (J.D.), summa cum laude, from Universidad Nacional Autonoma de Mexico in 1994.
He has undertaken several graduate studies at Universidad Panamericana such as, specializations in Taxation, Commercial Law, Administrative Law, Intellectual Property and Constitutional Proceedings (Amparo).
Awarded with the Fulbright-Garcia Robles scholarship (1998-1999), he successfully pursued his LL.M in International Taxation degree at New York University School of Law.
He attended to the Foundations of American Law for Foreign Lawyers Program, at Georgetown University in Washington D.C.
Alejandro is currently pursuing his Scientiae Juridicae Doctor (J.S.D.) degree which is a research doctorate in law, equivalent to the more commonly awarded.
Areas of Practice
Tax, Consulting & Litigation
Professional Career
Significant Accomplishments
Alejandro has been recognized by Chambers & Partners Latin America, Legal 500,
Who s Who Legal and Tax Disputes Leaders as one of the best tax lawyers in Mexico.
The excellent Alejandro Barrera Fernandez is a leading specialist on issues surrounding tax planning, consulting and strategy both on national and global level. (Who s Who Legal 2018).
Alejandro is recognized by his peers as well as tax authorities as one of the best tax specialists in Mexico.
Professional Associations
International Fiscal Association

ANADE
STEP
BMA
Former Chair of the Tax Committee of the Mexican Corporate Counsel Association (ANADE).
Member of the Mexican Bar Association (Barra Mexicana Colegio de Abogados).
Alejandro is member of the International Tax Committee of the College of Mexican Public Accountants (Colegio de Contadores Publicos de Mexico).
Alejandro is Member of the Board of the Mexican-Brazilian Chamber of Commerce (CAMEBRA).
Co-Chair of the Tax Committee of the Mexican-French Chamber of Commerce (Camara de Comercio Franco Mexicana)
He is member of the Fulbright Scholars Association.
Member in Mexico of The Society of Trust and State Practitioners (STEP)
Professional Activities and Experience
Previously to Basham, Ringe y Correa he worked at the Federal Tax Prosecution Agency (Procuraduria Fiscal de la Federacion) and then at Probursa International, Inc., a Brokerage Mexican firm based in New York.
Articles
Additional Articles
Co-author of the book Introduction to International Taxation, published by the Institute of Public Accountants of Mexico 2006, 2009 and 2016.
He has been author of many legal-technical articles that have been published in specialized magazines in Mexico and abroad, and concurrently has been interviewed on the media on tax matters.
Meet our Firms and Professionals
WSG's member firms include legal, investment banking and accounting experts across industries and on a global scale. We invite you to meet our member firms and professionals.