Summary
A tech-savvy company does not necessarily have a tech-savvy legal team but, a supportive environment is at least a start. Survey results showed that 81% of respondents said their companies were supportive of the use of technology in the legal function. However, at the same time, 67% thought their companies were more supportive than their rivals.
---
A tech-savvy company does not necessarily have a tech savvy legal team. Nor, for that matter, does it necessarily encourage the use of tech among support functions. But a supportive environment is at least a start. It is refreshing to see that 81% of respondents said their companies were supportive of the use of technology in the legal function. At the same time, 67% thought their companies were more supportive than their rivals. At least 18% of them must be wrong...
But this support has not necessarily translated into financial backing: nearly half (45%) of GCs said that insufficient budget for was the biggest barrier they faced to obtaining technology for the legal team. Knowing what to buy among the many systems available is also becoming problematic, with 73% of GCs either unsure of what technology was available or feeling that there was no suitable third-party tech to meet the legal team's needs.
There are also cultural barriers to implementing legal tech, sometimes in surprising places. Japan may be the home of everything high-tech, from robots to video games consoles, but its businesses still lean heavily toward tradition when it comes to ways of operating. Angela Yuen, deputy general counsel at JERA, Japan's largest power generation company comments:
'In every Japanese organisation there are more layers than an onion. For instance, taking an approval system from paper to electronic format can be a huge task because under the old system of internal approval there will be a large number of steps required at various levels and no one wants to be cut out of a decision.'
'Furthermore, while people in Japan embrace technology, the legal field has been slower adopting legal technology due to a conservative, careful approach. I think these are two significant factors in why Japanese corporates have been slower to embrace legal technology'.
We hope to integrate this with our order and shipping system to minimise the risk of shipment of products which may not have fulfilled the requisite regulatory requirements for going to market.
At our team level, I advocated some years back the use of what we call the Activity Log System, which is similar to the system law firms use to record their lawyers' time costs. While there wasn't then an immediate need for such data, I foresaw the necessity to address matters ranging from internal or cross company charging, tracking productivity at both individual and team level and understanding better the nature of work conducted.
I was fortunate to be able to leverage our IT team's existing system with minor customisations to suit my objectives. It took a while for my team members in the region to get used to the concept of keying in time costs. However, I believe in recent years, they have learnt to appreciate the value of this brings.
In terms of external resources, we use DocuSign as an e-contracting solution. Our contract volume may be relatively lower compared to other industries and electronic contracting is still curtailed in certain jurisdictions within the region under our care. However, we recognise the value of a tracked electronic contracting process and I wanted to embark on it early.
Collaboration between Legal and IT is clearly key in the development of bespoke tools. A critical factor for a successful collaboration is ensuring that we do not take our IT resources for granted (which tends to be the case where internal costs are not so visual). As such, I fully support our IT's team recent efforts in helping their internal clients visualise the IT resources and cost expended for each project better. They are after all a service provider to us as we are a service provider to our internal clients.
I suppose legal tech invariably leads to a discussion on the use of AI. I have spoken with other GCs who have used artificial intelligence to understand better its practical value. At the basic level, for example in terms of automated contract generation, there is certainly value. However, extending its use to a larger scope such as contract reviews may have differing levels of output value depending on the organisation's needs and the source data it can provide. There are also concerns of output reliability and risks and responsibility.
The long and costly road
When it comes to wish lists for new technology, GCs are looking for either a simple efficiency boost (38%) or readily customisable software (24%). Surprisingly, value for money (15%) and ease of use (10%) were not big concerns for GCs looking to implement new systems. Clearly, legal teams accept the road to techenabled efficiency gains will be long and costly.
But the costliest of all solutions, advanced automation and AI, have yet to gain traction with Asia Pacific's GC community. Only 23% of those surveyed said they were using an advanced tech solution in the legal team, with many deterred by concerns over the cost and reliability of the such systems (29%), difficulties finding the right software (20%) and their own lack of product knowledge (21%).
There was also a healthy degree of scepticism on display. 'The maturity of AI solutions for legal work is lacking, and I think there is more marketing hype than real AI solutions on the market', comments Bernard Tan, Asia Pacific managing counsel at Agilent Technologies. There were also concerns that more advanced software would generate more risk for the business. As one respondent commented:
'There are a number of advanced technology options, but none so far have I found to be absolutely effective. Those that do exist seem to create another layer of liability, which can add to the responsibilities of the legal team. No single tech platform is able to resolve multiple issue, regardless of what their sales teams claim.'
There have, however, been positive experiences. Ivy Wu is head of legal for Greater China at American business-to-business IT service provider DXC Technology. Recently, DXC signed the largest-ever managed services partnership agreement with UnitedLex, giving them access to a suite of advanced legal technology systems.
'The AI-based legal research translation tools mean we accrue significantly less time and cost penalties when compared to having a dedicated department for this task', Wu comment. 'A document can be translated very quickly and will only require a very simple manual double confirm, which is very useful for some litigations, especially international ones which require a lot of translation. The feedback from the business from seeing this data is very positive because they are able to see the cost saved by the legal department is greater than our budget'.
Friend or foe?
GCs may not be using advanced technology en masse right now, but they are keeping a close eye on developments in the field. More than half (55%) were concerned that legal tech would disrupt the in-house job market, while just over a third (38%) felt that lawyers were well equipped to adapt to technological changes within the profession.
But, as Susan Cattell, senior legal operations manager at AMP, concludes, the end game is not lawyers being made redundant, but lawyers learning to do things more effectively.
'I look forward to the disruption of the industry when we get this right, as when we do, the possibilities of better service to the end-clients, lower cost processes and better managed teams should promote an even better working environment.'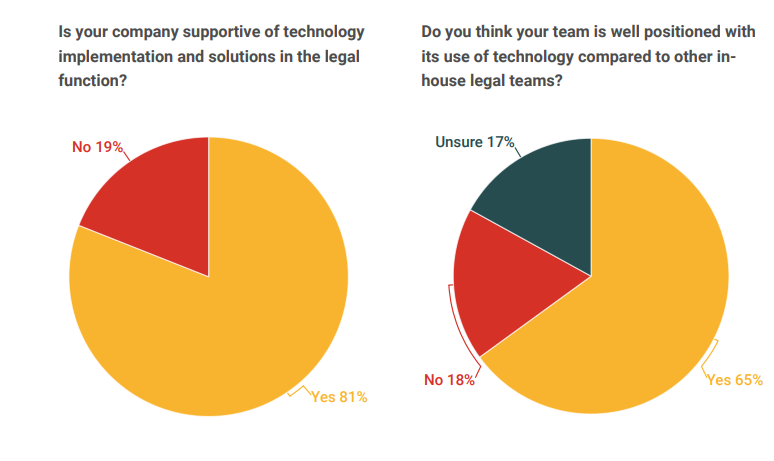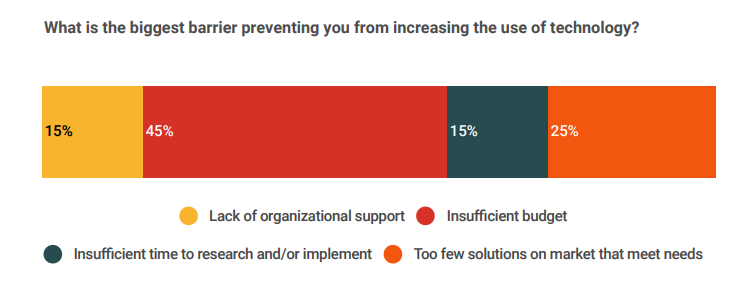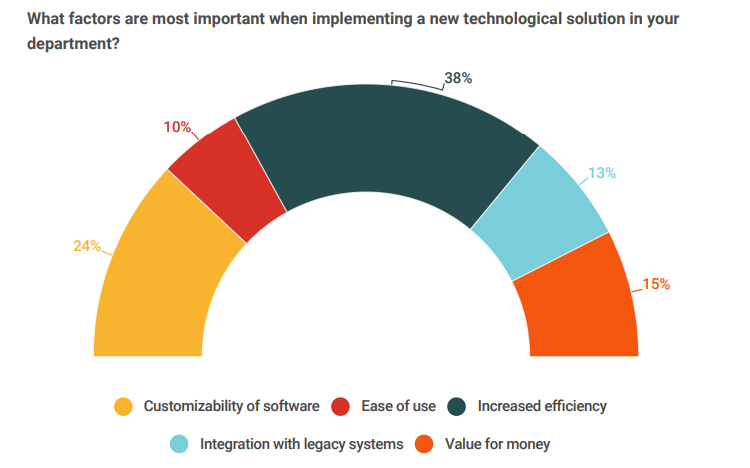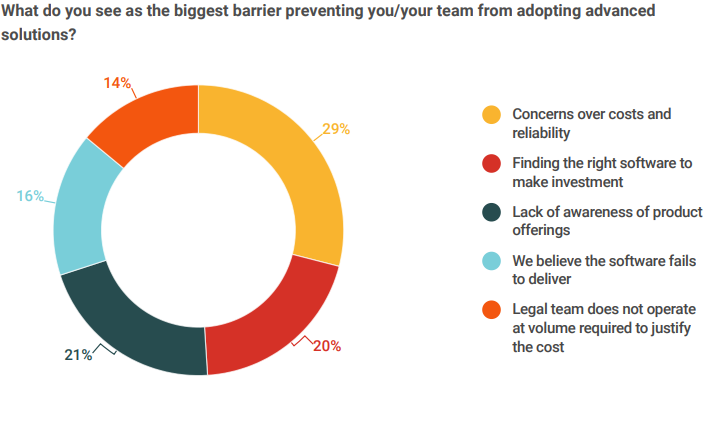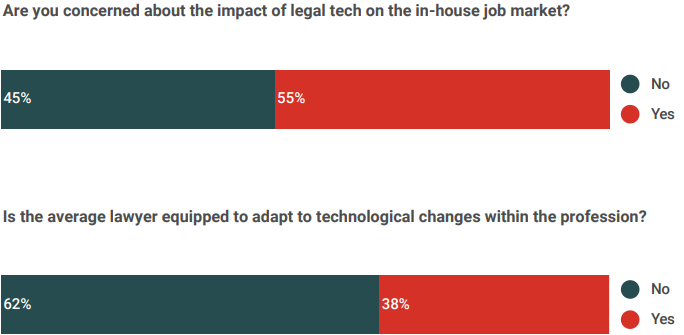 ---